Gaming Benchmarks
We finally get to the games which is ultimately what matters for most users of such memory. The first game is TOTAL WAR: TROY where there just isn't any difference between the standard DDR5 5200 and the XPG CASTER EXPO settings. This game scales with CPU performance and memory sub system usually, but not on AMD's platform clearly. Performance is identical across all settings.
Guardians of the Galaxy was a surprise where the game performance improved by some margin between the settings. Interesting that the difference between DDR5 5200 and DDR5 6000 EXPO, is repeated between DDR5 6400 CL34 and the EXPO profile.  This game benefits immensely from higher performance DRAM on the AM5 platform.
Far Cry 6 represents a middle ground between Guardians of the Galaxy and Troy: Total war. Far Cry 6 scalers moderately with better DRAM performance with median frame rates higher at DDR5 6000 and even more so at DDR5 6400. The fastest DRAM settings offering on average, 10FPS more than DDR5 5200. More importantly however are the minimum frame rates which are highest at DDR5 6400.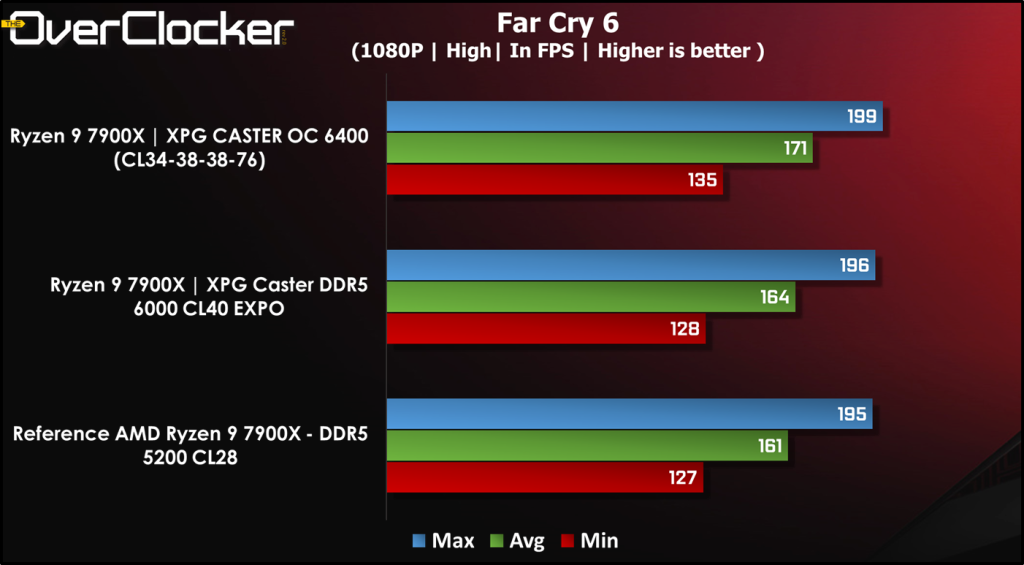 Depending on the game, the XPG CATER DDR5 6000 kit can offer significant performance gains or none at all. In all scenarios though, it never hurts having faster memory. In as far as game tests are concerned, the XPG CASTER DDR5 6000 makes a sensible case for itself.
---