Cooler Master Launches M.2 Enclosure – Oracle Air
Cooler Master launches the first product of its new storage line, Oracle Air. Based in the latest NVME M.2 technology, Oracle Air is a pocket-sized SSD enclosure which provides swift, easily upgradable, on-the-go storage for gamers and digital nomads alike. If commuting from one location to another and getting inspired and creating on the go sounds like your daily routine, then you're going to need reliable data storage to ensure those valuable moments stay safe and secure. Not only does the unit keep your creative valuables protected while you travel, swift data transmission ensures that not a single moment of your busy day goes to waste. Designed for intuitive installation, users can easily swap between multiple SSDs or upgrade their storage space without the need to fiddle with screws or tools. Built-in MOLLE compatibility allows users to effortlessly attach Oracle Air to backpacks and other bags so you can keep your progress close wherever you go.
Aside from being a helpful tool for creative professionals, it also helps laptop, mobile, and console gamers combat the constant frustration of insufficient storage space. Easily upgradable and future-proof, Oracle Air empowers gamers access to an endlessly expandable gaming library without needing to break the bank on a new device or cloud subscription services. Composed of a large heatsink as well as an outer protective shield, its structural design facilitates quick heat dissipation, preventing stability issues even under extended use. Data transfer speeds up to 1000 mbps prevents lags or performance drops from getting in the way of your next high score.
Blistering Speed, On-The-Go – Whether you're gaming, editing, or creating on the fly, the Oracle Air easily transfers data at speeds up to 1000mbps by utilizing the latest NVME interface paired with USB 3.2.
Dual Layer Cooling – The inner core consists of a large heatsink built in for highly effective heat distribution and rapid cooling even under extended use. A sleek, protective outer layer allows for maximum ventilation while keeping Oracle Air cool to the touch. Install In Seconds – Turn your NVME M.2 SSD into a portable storage drive in just four steps! Engineered for intuitive use, Oracle Air keeps things simple for the user by completely omitting the need for screws or tools during its installation process.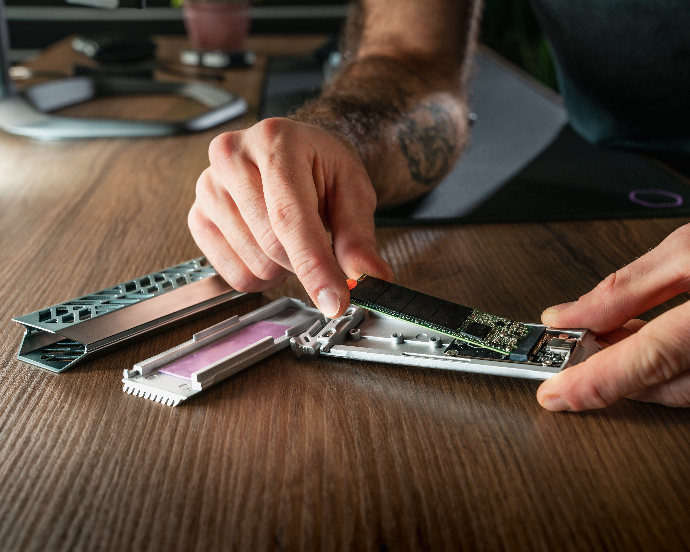 Painless Upgrades, Future-Proof – Oracle accommodates NVME M.2 SSD drives of all sizes to satisfy various needs. Fuel your passion with reliable, easily upgradable storage or rapidly switch between multiple SSDs for quick access. Plug and Play, MOLLE Compatible – Bring your creative space with you wherever you go. Built-in MOLLE compatibility allows you to easily attach Oracle onto backpacks and more, facilitating instant, secure access to countless games and files.
Multi Platform and Device Support – Enjoy out of the box support for PlayStation, Windows, Mac OS, Linux, Android, and IOS whether you choose to use Oracle Air for work or play.
Availability
The Oracle Air will be available for US$49.99 MSRP. Price and availability may vary per region.
Product Page: http://www.coolermaster.com/catalog/storage/ssd-enclosure/oracle-air
---
Forum Discussion