ASUS TUF GAMING X570-PLUS Review
WEB: ASUS MSRP: US $193.22 | ZAR 3,999 | AUTHOR: Neo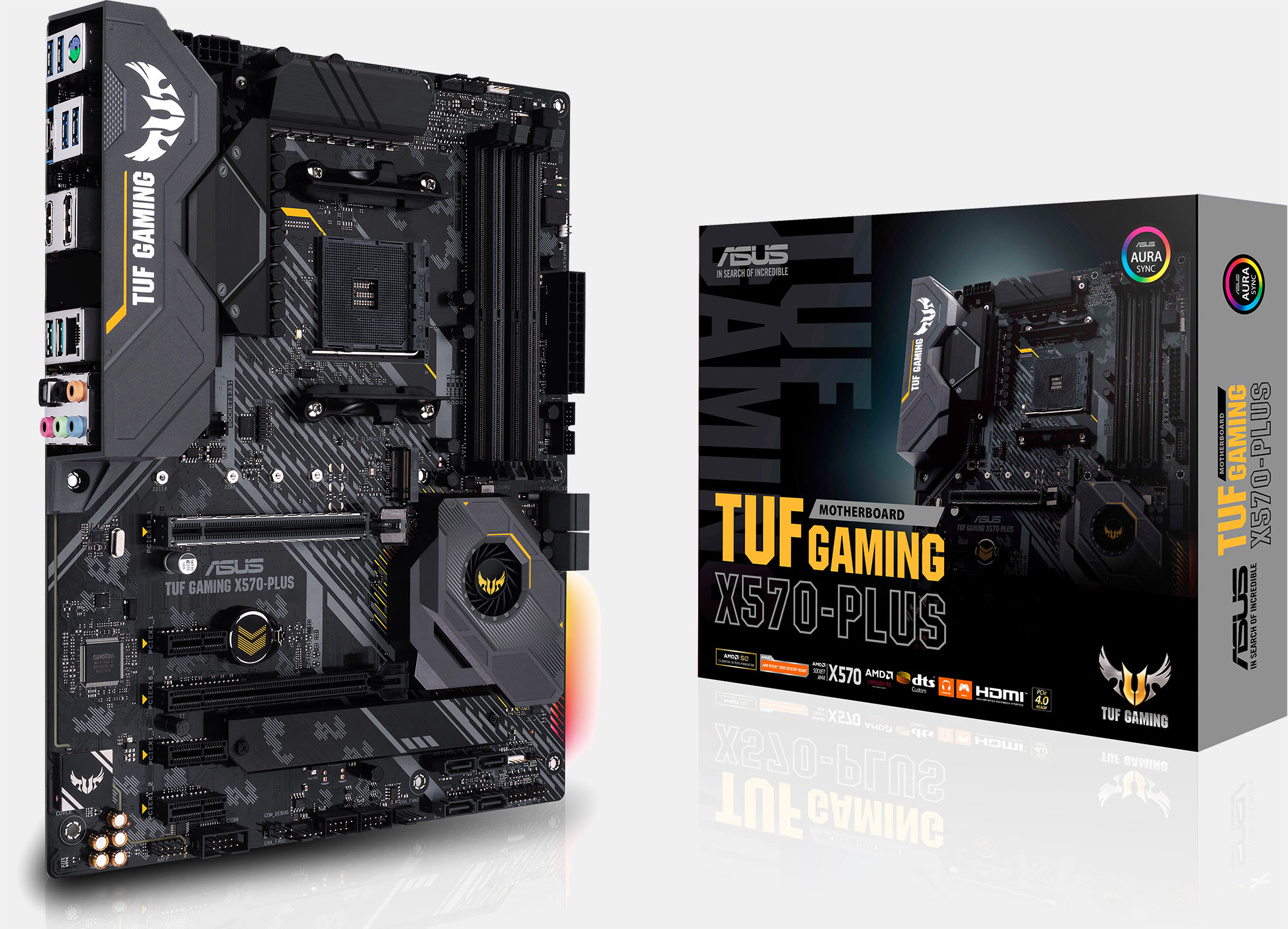 I think it's safe to say that X570 boards have gone from interesting to incredible since their introduction in 2019. We went from the chipset fans being an issue, to something we rarely if ever talk about anymore. Now, in 2020 (yes, I know, the X570-Plus is from 2019) we even have refined offerings like the TUF-Gaming X570-Plus for the entry-level and budget space. In that same period, AGESA updates have improved compatibility and performance, making the whole experience that much better .
Introduction
With the TUF-Gaming X570-Plus, we're arguably looking at another great value orientated board, that despite its pricing, proves quite competent on all fronts. Before I go further though, note that there's a Wi-Fi model which is identical save for BT5.0 and Wi-Fi connectivity. This 'vanilla' version though remains compelling for a number of reasons outside of the keen pricing. A lot of that isn't in the basic functionality, but in simple things like just how good it looks. Compared to when we first saw boards with RGB lighting, vendors have realized that sometimes less is more. The X570-Plus is a testament to that and easily one of the more visually striking boards I've seen in this price segment.
Specifications
Socket | CPU
Socket 1331 | AMD AM4 3rd, 2nd & 1st Gen AMD Ryzen with VEGA Graphics
Chipset
AMD X570
Memory Support
4xDIMM DDR4 2133 – DDR4 4400(O.C.) (Dependent on CPU generation)
Storage
8x SATA 6Gbps, 2x M.2 x4 ( PCIE 4.0 x4 2x 22110)
Audio
ALC S1200A
Expansion Slots
2x PCIe 4.0 x16 (x16 CPU & x4 chipset), 3 x PCIe 4.0 x1 (x1 Electrical)
Connectivity
Gigabit Lan – Realtek L8200A
Rear Panel I/O
4x USB 3.2 Gen 1 (Type-A), 1x USB 3.2 Gen 2 (C), 2x USB 3.2 Gen2 (A)
Total Fan Headers
6x 4-pin (PWM/Voltage)
Power Connectors
1x 24-pin EATX, 1x 8-pin 12V, 1x 4-pin 12V
Form Factor
ATX Form Factor: 12.0-in x 9.6-in, 30.5 cm x 24.4 cm
Going only by the specifications, you may be dismissive but I implore you to look past the specs as what matters is how it all comes together. A bold statement indeed but I'm hoping by the end of this review you'll come to understand it, even if you may not agree with it.
---
You are here: Page 1 – Introduction