Wootware Wootbook Ultra II
Performance Analysis – continued
---
3DMark is the next test, one that readily reflects the advantages of reduced power limits in turn boost performance. The tuned settings deliver an almost 200 point advantage in the GPU limited 3DMark FireStrike Ultra. For the more recent DX12 TimeSpy, the tuned settings gain a hefty 500 points over the default settings. Not bad, given that this increase in performance comes via reduced power consumption and thermals.
Below we have the gaming tests, which of course lean towards the tuned settings. Notice that the difference isn't large at all, but as stated above it can produce better results, at a lower power draw and lower temperatures. An overall, system improvement in every department.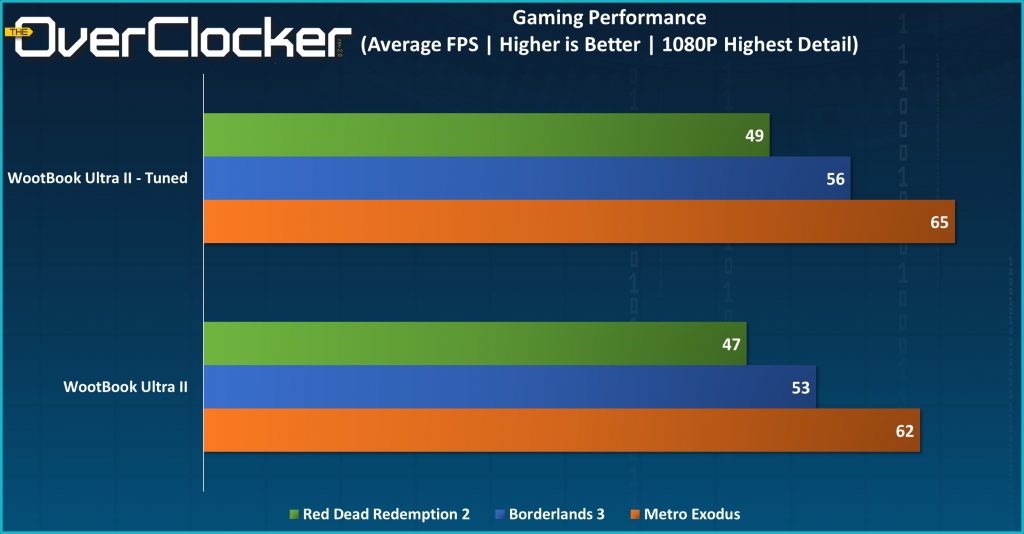 Video transcoding performance gives the nod to the tuned settings. Not by much, but realize that the tuned settings limit power draw quite drastically. Despite these limitations and lower peak CPU frequency, the increase in thermal headroom leads to a higher CPU frequency more consistently.
The numbers for the battery test may seen odd, but I assure you they are correct. The Gaming suit basically loops GT1 from 3DMark Firestrike, where the tuned settings maintain a higher GPU core clock of at least 1755MHz. On the other hand, the default settings reduce the GPU clock down to 1700MHz. This test has negligible load on the CPU, thus the saving there through lower power limits cannot offset the higher GPU core clock. Still, an 11 minute difference isn't much and in both cases, you can game for over 2 hours on battery power.
---
You are here: Page 7 – Performance analysis – continued