ASRock Z490 Taichi Review
Board Features
---
Throughout several generations, ASRock and their purity audio is how we experienced the motherboards. Of late, that has changed in favour of the Nahimic audio solution and it is for the better. I am not sure what purity audio does, but with Nahimic, it's obvious as you enable the enhancement within the OS. This audio layer, however, sits atop a Realtek 1220 CODEC, Nichicon fine gold and WIMA audio capacitors, a SABRE9218 DAC, PCB isolation and individual PCB layers for left/right audio channels. It's a sensible and well above average solution, with enough of a sonic advantage over cheaper offerings.
M.2 connectivity on the Z490 Taichi is substantial as it has three sockets, all of which are Gen3x4 compliant. I can imagine when INTEL's 11th generation CPUs with PCIe 4.0 connectivity enabled arrive. At least one of these sockets will offer Gen4x4 support. We will have to wait and see however how that turns out.

As is the norm with Taichi motherboards, the Z490 board has a power, reset, clear CMOS button and a POST code LED display. On the rear IO one finds the BIOS Flashback button, which works without a CPU or DRAM as you'd imagine. It's nothing out of the ordinary here. It's identical to all the previous boards, but these remain as valuable as before.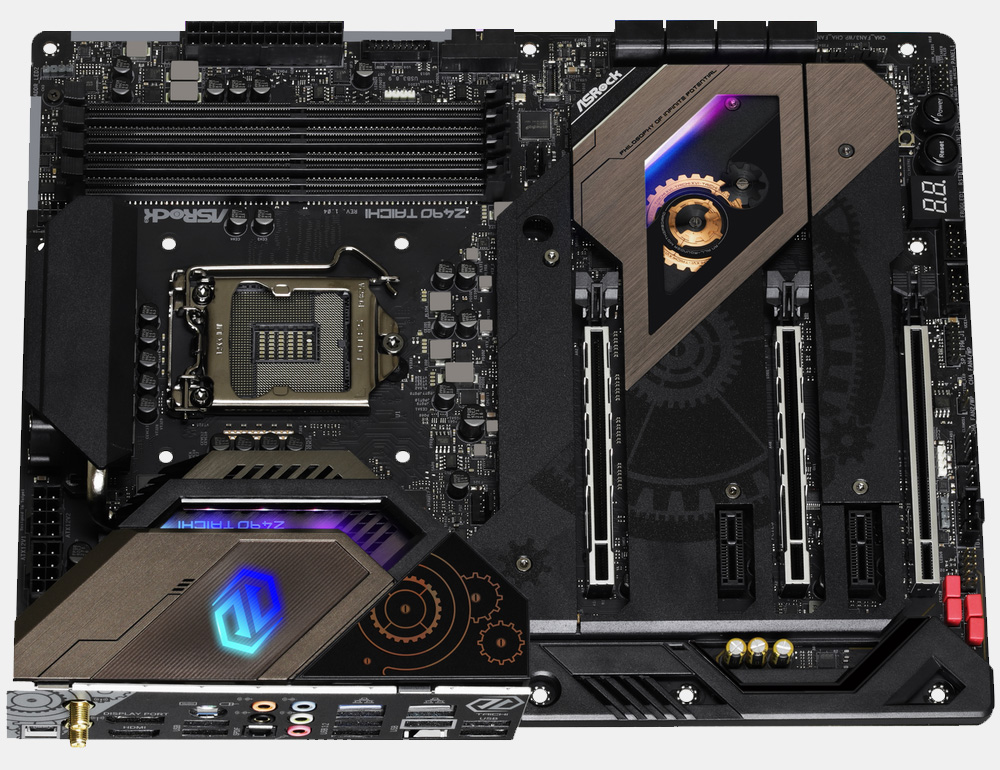 Eight fan headers, four addressable RGB LED headers, two front USB Type C connectors via an ASMEDIA chip and two additional SATA ports via an ASM1061 controller. The addition of the 3rd party SATA controller is part of how the Taichi series remains true to its core messaging. It's only overclockers, or at least that I'm aware of, that need the ASMEDIA controller for Windows XP and Windows 7 compatibility.
---
You are here: Page 3 – Board Features