ASRock Z490 Taichi Review
General Impressions
---
At this price, at least the USD price, the Z490 Taichi seems rather expensive against the competition's offerings. It is only when you look closer do you realise that part of this pricing has to do with the 3rd party controllers used. The two ASMEDIA controllers for USB and SATA have a cost implication, and those are not the only two. There is yet another ASM324 chip that gives the Z490 Taichi full 20Gbps USB 3.2 Gen 2×2 connectivity. It is all these things and more which add up and result in this seemingly higher than expected price for some.
The rear IO seems rather sparse when compared to previous offerings perhaps, and the competition. Once again though you have to look closer and see that all eight USB ports on the rear IO are at least 5Gbps capable. There aren't any USB 2.0 ports on the board, and in fact three of the eight are 10Gbps+. I tried to think of what I might need to add this board would not allow. This made me realize that while eight is an unusually low number of ports in 2020, with the features present on the board, I just don't need as many USB ports.
Finally, I'd like to address the aesthetic qualities, which I believe are among the key selling points for the X570-Plus. This board is to me, more appealing than some more expensive boards from ASUS and from ROG. As is, nothing about the styling of the X570-Plus shouts 'budget offering' and it's precisely because its colour scheme and subtle RGB lighting that I actually prefer it. Where the board aesthetic is concerned, I'm quite partial to the TUF-Gaming X570-Plus – it looks great.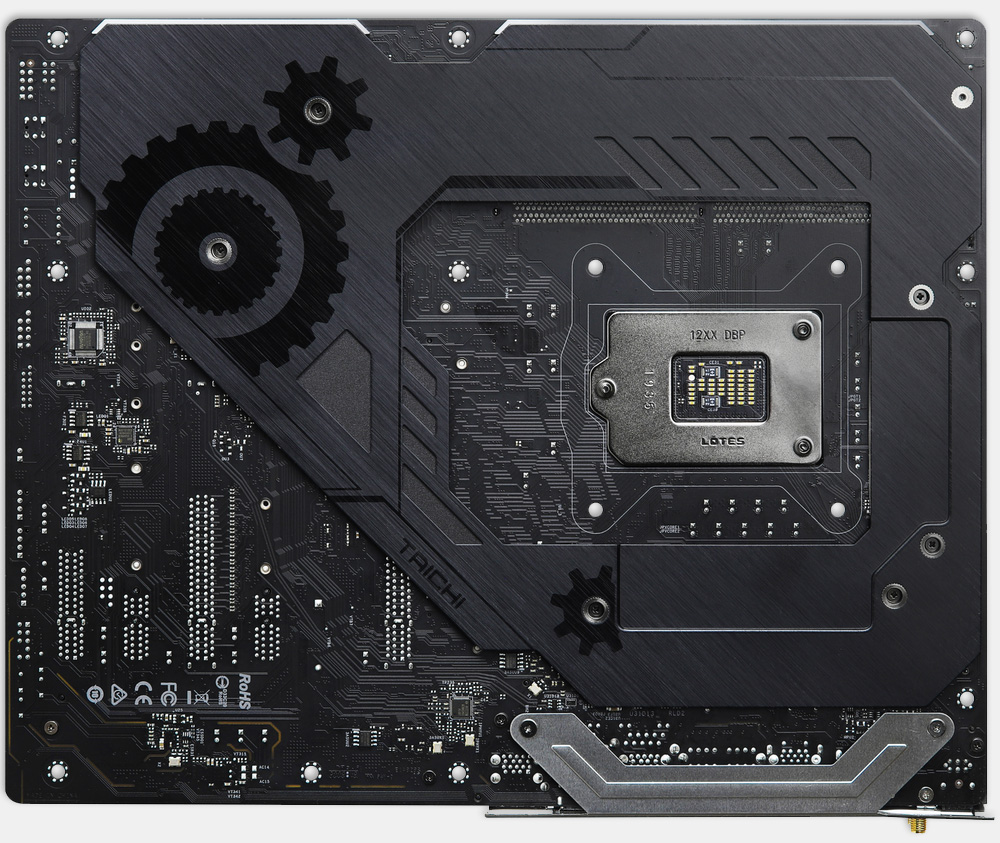 The back of the Z490 Taichi reveals a back plate that serves as a heat sink and as a structural component. Beneath the shielding are thermal pads below the PWM area and towards the front edge, the board's RGB LEDs.
---
You are here: Page 4 – General Impressions