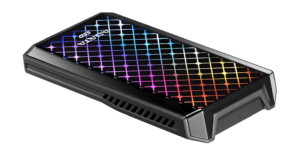 The synthetics
While plugged in to the back of the PC with the provided USB Type A to Type C cable, you can see some crazy sequential read speeds of 1034MB/s and write speeds of 942MB/s, but hang on, this isn't close to what the box says it can handle. Using the included Type C to Type C cable, we see sequential read speeds of 1021MB/s and write speeds of X. This is still half of what is advertised. What is going on here then? The PC I am using has a USB 3.2 Gen 2 port, but it isn't a USB 3.2 Gen 2x2 and that last part is the important one. USB 3.2 Gen 2×2 allows the data throughput to skyrocket from 10GB/s to 20GB/s. This is quite concerning and something that might be overlooked when paying this kind of money for a device. To be clear this is not the fault of ADATA, but the crazy folks that work USB standards.
What does this mean if you bought this for the use with you PS5 or XBOX Series S or X? Well, if you are a PlayStation, this is bad news as the front USB Type C port only supports up to 10GB/s and the same goes for the two USB ports on the back. For the XBOX Series S, USB 3.1 ports mean max transfer speeds of 5GB/s and no sight of a Type C Port. The same goes for the Series X. This makes sense from a Microsoft and XBOX perspective as this allows them to push the sale of their own proprietary external storage devices. That said nothing stops you from using this drive on either console.
Okay, the consoles can't take full advantage of the speed the SE900G offers, how about the PC Master Race subscribers then? Well as stated, my X570 motherboard does not support it, but maybe a more expensive one for AMD will have this benefit. Something like the ROG Crosshair VIII Dark Hero, coming in around R11,000.00 you still won't be able to get the benefit on AMD. Only when you are on the Intel platform will you be able to take advantage of the speeds advertised on the product page.