Cooler Master launches new cases in HAF series
Cooler Master launches today three new cases. The renowned HAF (High Air Flow) series is making a return with HAF 500. MasterBox 500 and MasterBox TD300 are launched alongside to provide users with a wide range of aesthetic and performance options.
The HAF Is Back
The legendary HAF is making a strong comeback with HAF 500, with more models expected to follow early this year. Bearing classic dual 200mm ARGB fans and large mesh intakes critical to the HAF series in identity and function, the HAF 500 boasts greater value in performance, build experience and visual design. The chassis comes upgraded with a rotatable 120mm Sickleflow fan for dedicated GPU cooling, adjustable to various GPU lengths and to accommodate different system layouts. Built-in USB 3.2 Gen 2 Type C support in the I/O panel allows for greater data transmission efficiency and versatility. The body features ample clearance, capable of housing seven 120mm fans or dual 360mm radiators so even the most power-hungry systems would not be held back. The top panel is fully removable; radiators and fans can be installed externally and reattached to the chassis for a user-friendly build.

Two New MasterBoxes, Double the ARGB
MasterBox TD300 Mesh
Cooler Master's best-selling TD series is now available for mATX systems. TD300 Mesh features the iconic geometric diamond-cut front panel design, truly engineered to bring out the artistic side of video game lovers. Its top panel can be easily removed for simplified access during radiator and fan installations. Large mesh intakes generate airflow for swift, efficient cooling, while the included Sickleflow fans cast a scattered glow that appears to dance and shift according to the angle viewed.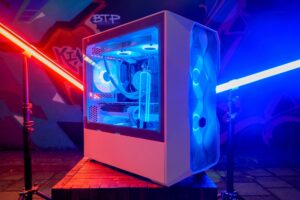 MasterBox 500
MasterBox 500 boasts top notch cooling support at the core of its design, providing extraordinary versatility and clearance for up to seven 120mm fans and duo 360mm radiators. The top and side panels are easily removable to streamline the building experience without the hassle of dealing with small spaces. The geometric, stealthy partial mesh front panel features minimalistic, futuristic ARGB accents, customizable to match and highlight the beauty of the system while optimizing airflow. Capable of housing up to ATX motherboards, 410mm long graphics cards, 165mm CPU coolers, and 180mm PSUs due to an increased chassis height, the MasterBox 500 will always have room for upgrades and is a must have for any gaming fanatic.
There's Something for Everyone
HAF 500 performance-focused design keeps your components in peak shape all year round. TD300 Mesh's bold and elegant outlook is bound to make any ARGB-forward system shine. Or grab a MasterBox 500, for a cost effective, stylish ATX case that satisfies your everyday computing needs. It doesn't matter what you are looking for, Cooler Master has something in store for you.
The HAF 500, MasterBox 500 and MasterBox TD300 are available globally, though price and availability may vary per region due to shipping & logistics constraints.
More Info: https://www.coolermaster.com/
---