AORUS RX 5700 XT 8G Review
WEB: AORUS MSRP: USD 449.99 | ZAR 9,840 | AUTHOR: Neo
---
The Aorus RX 5700 XT, much like all other NAvi10 graphics cards represents AMD's most advanced and most power efficient GPU to date, even if it isn't their fastest sometimes. Afterall, as much as AMD has been putting up a strong fight and some might even say winning in the CPU arena. The firm hasn't fared as well when it comes to their graphics cards. However, with the RDNA GPUs, AMD has made huge strides in closing the gap between itself and its primary competitor.
As in the CPU arena, AMD has one upped the competition in two ways. First by offering a more modern interface in PCIe 4.0 and of course in pricing. The latter far more relevant than the former.
Introduction
With the last few AMD based graphics cards, I've never been quite sure how the particular GPU generations work. By that I mean, between VEGA, Fury Radeon VII and other in between it's never been quite clear what was going on, in terms of what is generational and what isn't. It's with the RX 5000 series where it has all started to make sense to me again. So, it is possible I may have gone into this with a slight bias or comfort which was previously not there with the older cards.
That said, the Aorus RX 5700 XT made a positive impression on me and I'm convinced it makes an exceedingly strong case for itself against the likes of the RTX 2060 Super and the RTX 2070 Super as well. Two graphics cards which had proven to not only be popular but perhaps leaders in the price segment. The Aorus RX 5700 XT doesn't do anything spectacular, but it does enough around the GPU to make a compelling case for itself. Aesthetically, this Aorus model is understated, but that is part of the appeal. Mix that together with some great thermal performance and we have what is easily one of, if not the most impressive AMD powered GPU I've ever had the pleasure of using in a long time.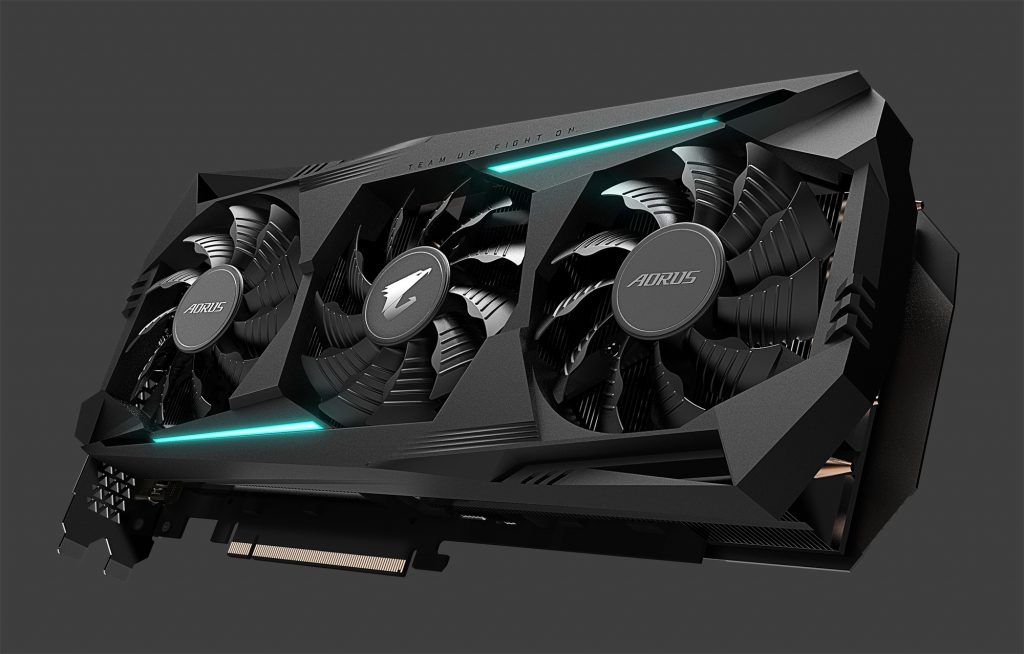 ---
Specifications
GPU
Navi 10 XT ( RDNA 1.0 7nm TSMC)
GPU Cores
2560
GPU Clock (Game)
1905 MHz
Memory
8GB 14Gbps Micron GDDR6
Memory Bus
256-bit
Memory Bandwidth
448GB/s
Interface
PCI-E 4.0 x 16
Size
290 x 123 x 58mm
Video Output
3x DP 1.4, 2x HDMI 1.4b, 1x HDMI 2.0
Power Connectors
2x 8 Pin (225W TDP)
Warranty
4 Years
AMD is leveraging all it can to make their offering as competitive as possible. That is a 7nm process node from TSMC, PCIe 4.0 as mentioned above and of course GDDR6 memory. It isn't the Samsung variety as one wold always hope, but it still delivers copious amounts of memory bandwidth and has some overclocking leg room as well.
---
You are here: Page 1 – Introduction