Cooler Master Launches GM27-CF & CM34-CW Gaming Monitors
VENDOR: Cooler Master WEB: www.coolermaster.com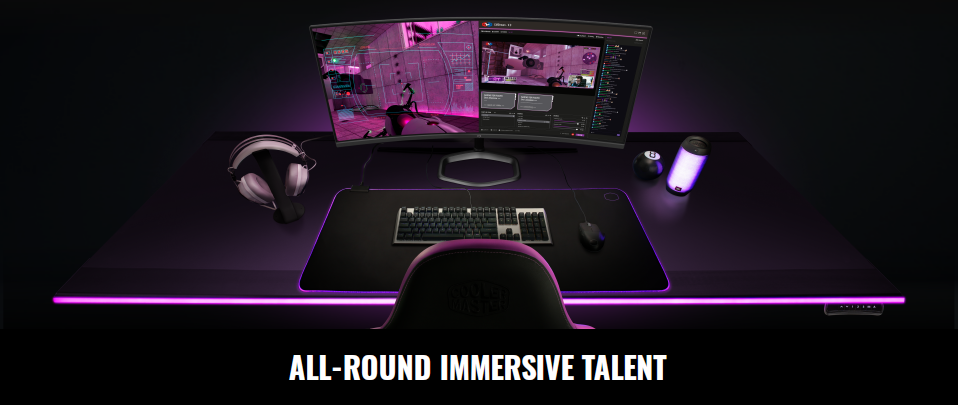 Cooler Master, a global leader in designing and manufacturing innovative computer components and peripherals will be launching a new line up of gaming monitors, GM27-CF and CM34-CW as one of the highlighted lifestyle products. The products solidify Cooler Master's dedication to providing "Work and Play" options for consumers.
The Cooler Master GM27-CF 27" 1500R curved gaming monitor is built with an ultra-game mode through FreeSync. The monitor reaches a high refresh rate of 165Hz (overclock to 200Hz) and up to 3ms (GTG) response time. Featuring an FHD 1920*1080 VA panel, in-wide color gamut of 90% DCI-P3, and ultra-narrow bezels, the GM27-CF is designed for gamers looking to experience minimal compromise while enjoying beautiful in-game landscapes.
UPGRADED ENGINE FOR SPEED
The GM27-CF sets a new standard with 165Hz refresh rate that can be overclocked up to 200Hz and 3ms response time that deliver better cursor tracking, movement and optimal visual conditions.
AMD ADAPTIVE-SYNC TECHNOLOGY
The CM27-CF features Adaptive-Sync (FreeSync™) technology – at the flip of a switch (in game mode), gamers can enable FreeSync + Wide Color Gamut 90% DCI-P3 (125% sRGB ) for a brighter, crisper and natural image to offer a truly uncompromising gaming experience.
GM34-CW
The Cooler Master GM34-CW 34" 1500R curved gaming monitor utilizes an Ultra WQHD 3440*1440 VA Panel to achieve maximum display quality and capability. The monitor reaches a refresh rate of up to 144Hz and up to 1ms response time (MPRT), supported by DisplayHDR400. The 21:9 ultra-wide monitor includes an adjustable stand and low blue light display mode, preventing eyestrain and providing ergonomic solutions
WORK & PLAY, BETTER AT BOTH
The 21:9 ultra-wide screen maximizes both gaming experience and work productivity. Spot the target moving at the corner of your screen or save time when editing the video with fully visible timelines. It also supports multi-tasking with as many programs as required.
FASTER WITH 144HZ+1MS
The GM34-CW powers the precision with a 144Hz refresh rate and 1ms response time. Count on better cursor tracking, movement and optimal visual conditions to help you do what you do best.
QUANTUM DOT REALITY
Quantum Dot technology delivers up to 95% DCI-P3 (125% sRGB) color that enables brighter, crisper, and more natural primary colors. The GM34-CW sets a new standard for life-like visuals.
FREESYNC 2 & DISPLAY HDR400 COMPATIBLE
The CM34-CW features compatibility with both FreeSync2 and Display HDR400 standards. Additionally, at the flip of a switch, gamers can enable FreeSync+HDR for the best gaming experience.
SHARED FEATURES
UNDISTURB BEAUTY
The super narrow bezel that tastefully compliments your content without a distracting large black casing offers you to see more of what matters and less of things that don't.
 VIEWING COMFORT WITH ORIGINAL DESIGN
The Cast-Aluminium stand provides a beautiful table centerpiece with a unique Cooler Master Design and functional purpose. Our "Halo" stand supports up to 100mm of height adjustment and 15 degrees tilt.
 SAFE PLAY WITH LOW BLUE LIGHT
The GM27-CF features a low blue light display mode, for worry-free long sessions and better eye comfort. Victory requires sacrifice but playing safe should never be on the list.
---