Cooler Master Introduces MM711 & variants of MM710
VENDOR: Cooler Master WEB: www.coolermaster.com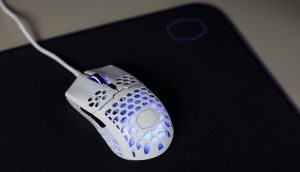 Cooler Master, a global leader in designing and manufacturing innovative gaming peripherals and computer components, introduces new MM710 variations as well as the MM711 Gaming Mouse, an RGB variant of the MM710 that weighs a little less than 60g.
The lightweight MM710 and MM711 allows for longer gaming sessions and quicker movements, with minimal fatigue and reduced wrist strain. The MM710 and MM711 (minus cable) weighs approximately 53g and 60g respectively, thanks to a durable perforated honeycomb shell — making them among the lightest gaming mice with top-of-the-line sensors on the market today. This drastically reduced weight works in conjunction with other premium features to enhance users gaming experience: a specially designed ultralight braided cable for minimal interference, PTFE feet for glide found only in aftermarket modifications, and an internal PCBA that is dust- and water resistant for improved durability. Standard pro-grade features round out the complete package: an adjustable 16000 DPI Pixart optical sensor, Omron mouse switches, and ambidextrous ergonomic design.
The MM711 takes the foundation of the MM710 and adds vibrant RGB LEDs to the scroll wheel and logo to further enhance its stylish, understated profile. Cooler Master's software enables full customizability of the RGB, allowing users to choose their personal colors and lighting effects.
"The MM711 is the ideal mouse for those who want premium, lightweight performance but with RGB capability," says Bryant Nguyen, Peripheral General Manager. "It adds another layer of personality to a mouse that is already striking in appearance and functionality."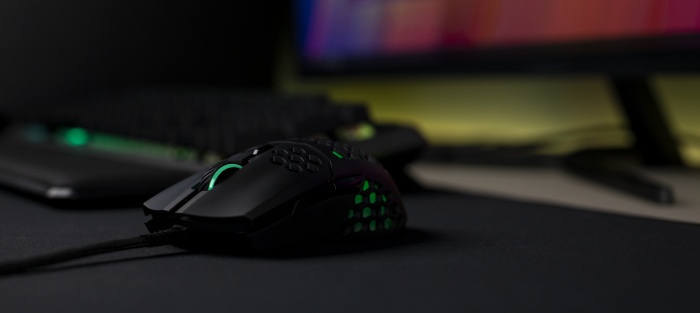 Gamers have different preference when it comes to mouse material, the main two being matte and glossy texture. For those with sweaty hands, matte coating could be a better choice versus glossy to provide a non-slippery surface, whereas dry hands may prefer glossy over matte. Along with the release of the MM711, Cooler Master will also launch three more models with two distinct color and texture variants of the MM710 besides the matte black that is already globally available. The MM711 models: matte black, glossy black, matte white, and glossy white will also be lauching. Each variant for the MM710 and MM711 (total of 8) will be available locally.
"We had a lot of feedback about which colors and textures users preferred in gaming mice," says Nguyen. "In the end, we decided to make them all for the MM700 series mice, so that all gamers can have a great experience." 
MM711 VARIANTS
Lightweight Honeycomb Design with Ultraweave Cable
The MM711 features a new, perforated "honeycomb" shell that drops the weight to less than 60g. The mouse's internals are also redesigned to increase durability, greatly decreasing the flex on the mouse sides. A deceptively durable Ultraweave cable reduces cable pull while swiping. These two features combined results in quicker movements, minimal fatigue, and more gaming.  
Gaming-Grade Optical Sensor and OMRON Switches
Optimized for greater control and precision in-game, the MM710 and MM711's Pixart 3389 optical sensor is adjustable up to 16000 DPI. The mouse's settings for fully customizable via software, such as sensitivity, button response time, surface tuning,lift off distance, polling rate and more. The mouse's left and right buttons include OMRON switches – graded for 20 million presses that remain true until the end.
Ambidextrous Shape Optimized for Right-handers
Featuring two side buttons for easy access to keybinds, the ambidextrous shape makes the mouse comfortable for multiple grip types. The shape of the MM710 and MM711 derives from the widely-acclaimed MasterMouse S shape with a slight hump in the back which provides extra palm support for gamers that prefer claw grip. Small enough to fingertip for most hand sizes, the shape also allows palm gripping for smaller sized hands.
---