Corsair Nightsword RGB Gaming Mouse Review
Physical Characteristics
Starting with the tail, the Corsair Nightsword has a 1.8 m non-detachable and braided cable. It is quite stiff and will need some getting used to, but this does soften somewhat over time. The cable causes some drag, but the heft of the mouse means that it doesn't really move it around even when new. However, chances are you will want to use a mouse bungee with the Corsair Nightsword. A slightly softer cable would have negated this, but it isn't as large a flaw as with lighter mice.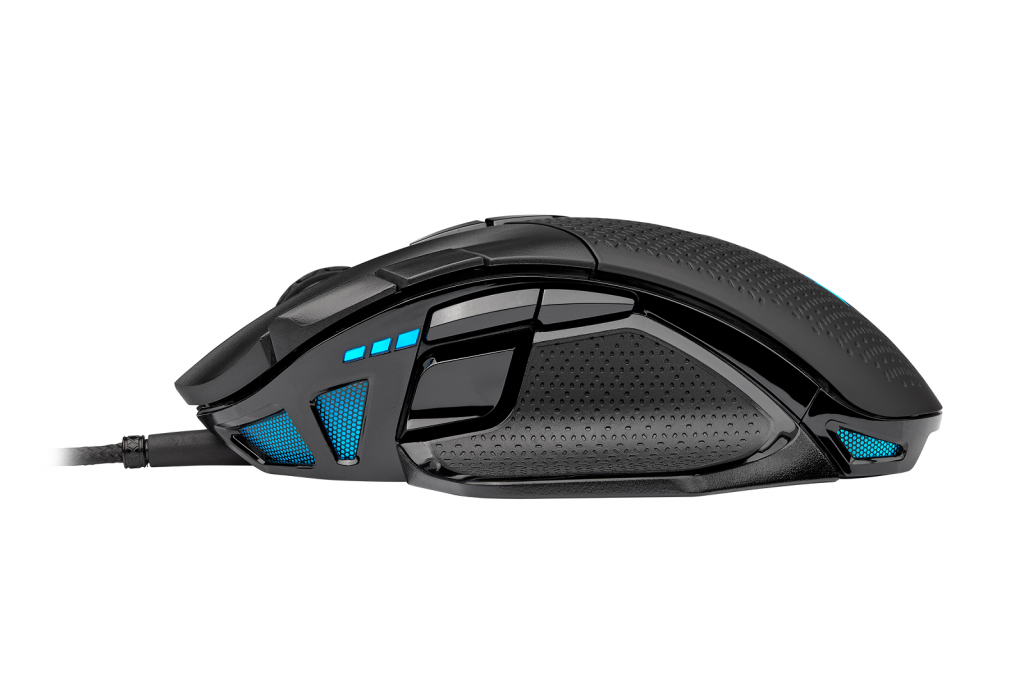 The buttons of the mouse have a smooth matte black finish, while the rest of the top has a rubberized finish with fairly deep texture. Both sides and the thumb rest have the same rubberized finish, and all have an asterisk pattern. This deep texture is something you'll either ignore or dislike. The general consensus in the office is that it doesn't add anything to the feel. The scroll wheel has the deepest texture we've seen on a mouse and this actually did add value. As for the remaining buttons, the two at the top of the left click have the same texture as the primary buttons, while the other five have a glossy finish.
The scroll wheel has decidedly chunky feedback with well defined steps, so overshooting when scrolling shouldn't be an issue. While the actuation force of the middle button is similar to that of the Ironclaw, the better defined steps of the scroller mean that accidental scrolling isn't such an issue.
---
You are here: Page 2 – Physical Characteristics