Tag Archives:
Flash Memory Summit 2019
VENDOR: ADATA WEB: Adata Industrial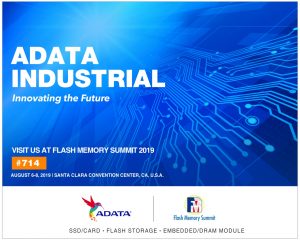 Taipei, Taiwan – July 26, 2019 – ADATA Technology (Taiwan Stock Exchange: 3260.TWO), a leading manufacturer of high-performance DRAM modules, NAND Flash products, and mobile accessories is pleased to announce that it will be at the 2019 Flash Memory Summit (booth 714), one of the most important memory and storage tradeshows worldwide. The event is scheduled to take place from August 6-8, 2019 at the Santa Clara Convention Center in Santa Clara, California, USA. At the show ADATA will be exhibiting its latest lineup of industrial-grade SLC, MLC, and 3D NAND solid state drives (SSD) as well as new PCIe SSDs and DDR4 2666 memory modules that meet the performance and data security needs of customers involved in the Internet of Things and 5G communications. In addition, ADATA will also participant in forums at the show, on August 6 and 7, to discuss how to mitigate the vulnerabilities of Opal 2.0 and SED SSDs, as well as ADATA's performance testing methodology.