ROG STRIX GeForce GTX 1650 Review
Shadow of the Tomb Raider
This is one of thew oldest games to support the DirectX 12 API which unfortunately wasn't great at launch, delivering lower performance using this version of the API as compared to DirectX11. At this point, it doesn't seem to make much of a difference with both API versions delivering similar performance. Artistically this title is stunning, but in terms of the bells and whistles that one would expect from a next gen title, it falls slightly short.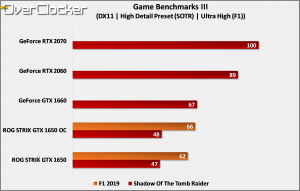 CodeMasters F1 2019
The latest entry into the annualized series, brings better DirectX12 support, including DLSS support and other AMD image enhancing features. In terms of rendering believable tracks and cars, the Ego 4.0 engine does an admirable job bringing some of the most realistic track rendering on the PC to date. Unfortunately when it comes to rendering believable humans, it's far from anything released within the last five years, with character models and shading straight from the early Xbox 360 days.
3DMark Firestrike &  Unigine Superposition
As you would expect then the GTX 1650 brings up the rear, but it does perform admirably given how little it has to work with.
---
You are here: Page 7 – Performance: Tomb Raider | F1 2019 & Synthetic performance