Cougar Aqua 280 AIO Review
 WEB: COUGAR MSRP: USD $89.99 | AUTHOR: Neo
Cougar is back and this time it's with their Aqua 280 AIO unit. Part of a brand-new family of Aqua cooling solutions that span the full gamut from 120 to 360mm Radiator solutions. The 280 and 360mm units tailored for high performance and overclocked systems naturally.
In a market filled with cooling solutions though it remains to be seen how well the Aqua 280 can hold its own. With an aggressive MSRP of $89.99 there aren't many quality AIOs at this price, let alone 280mm units. So just by virtue of pricing alone Cougar already delivers where its competitors may struggle.
Introduction
As much as we all appreciate a high value for money product, this isn't how one measures the overall plausibility of a product. These days the aesthetic element of every component matters as much as the component performance. Fortunate then that Cougar has taken a commendable approach to how it distinguishes the Aqua 280 from the rest of the field by primarily freeing the RGB LED control from software. Instead choosing to offer over 100 effects and colours by way of a remote-control unit.  This simplifies visual customization and, in many ways, works better than the software control schemes other units employ.
It'll be the combination of this aesthetic element and control along with the thermal and acoustic performance which will determine how well received the Aqua 280 is. I can tell you right now though, that given the balance of what it provides in performance and at this price point. The Aqua 280 is well worth your consideration, particularly if you're on a budget but just can't bring yourself to invest in an air cooler.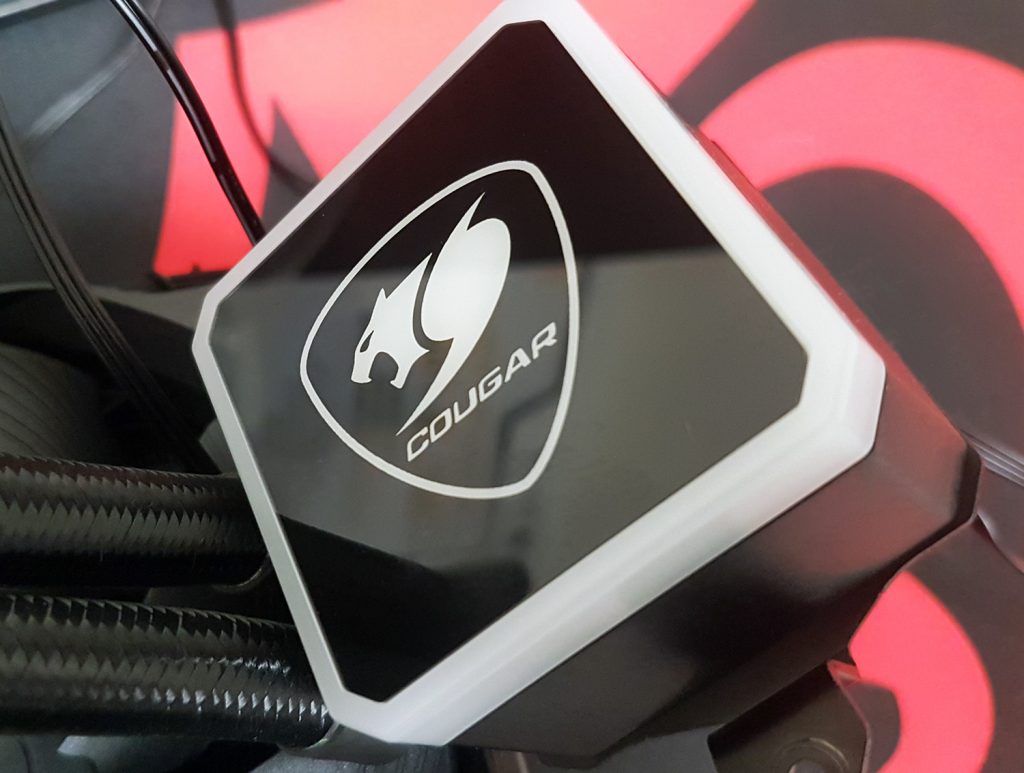 Before we get into all of that however, below are the specifications of the Cougar Aqua 280.
---
Specifications
Socket Support
FM1/2, AM2/3/4 | LGA 775/115x/1366/2011/2066
Tubing
400mm Sleeved, Rubber
Fans
2x Vortex WB 140 (PWM)
Fan Speed
600 – 1800rpm ~
Air Flow
105CFM (Max.)
Cold Plate Material
Copper
Pump Speed
3200 rpm +/-
Pump Power
4.68W
Radiator Size
280mm
Warranty
2 years
Price
$89.99
In as far as AIO units go, there's nothing out of the ordinary here. What is worth noting though is that among it's competitors Cougar is the only vendor I'm aware of offering a 280mm unit at under $100, where others only have 240mm units. That said, these also have RGB LED fans, where the Aqua 280 doesn't. Personally I don't mind the waterblock only RGB LED fans. 😉
---
You are here: Page 1 – Introduction