Corsair Virtuoso RGB Wireless Review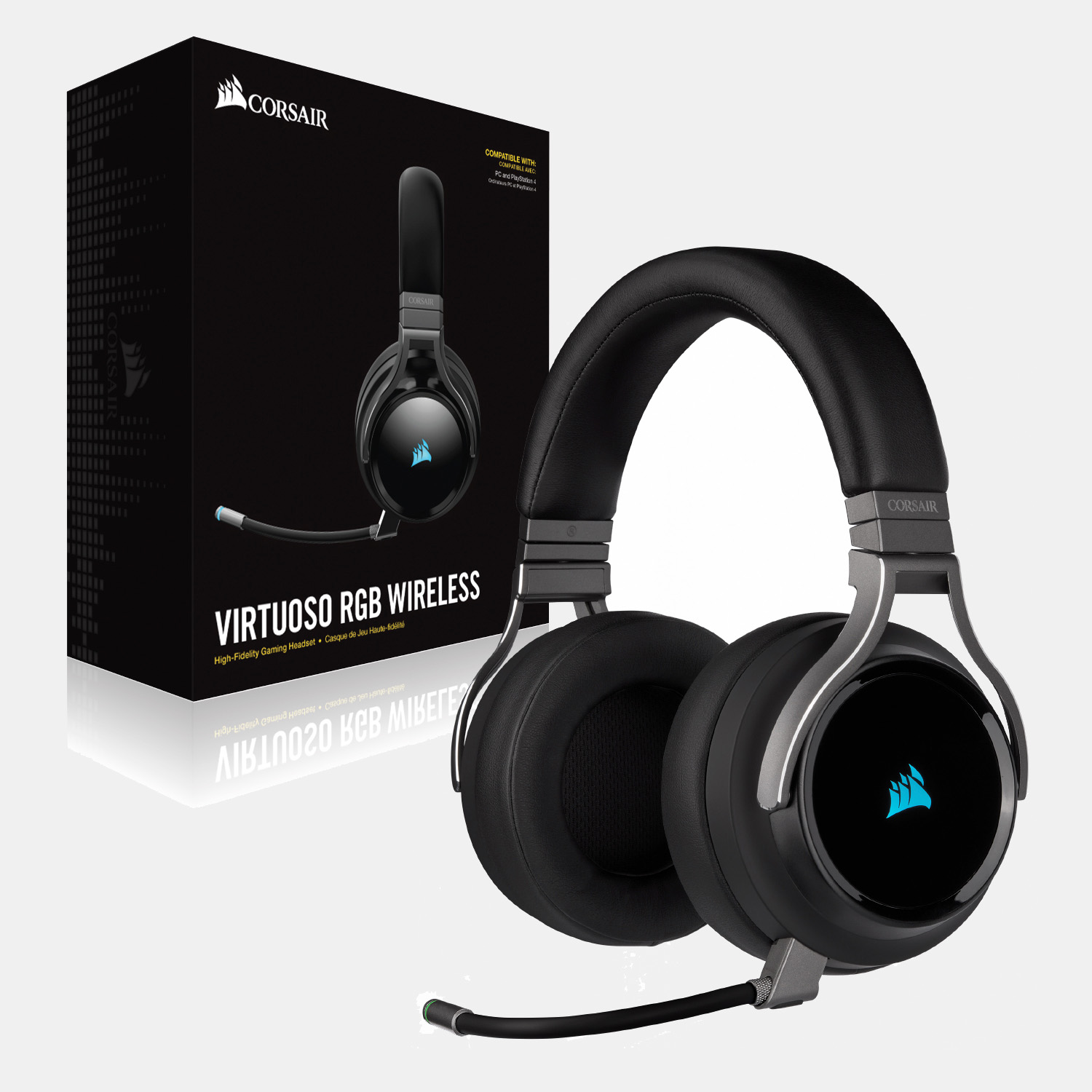 WEB: CORSAIR MSRP: US $179.99 | ZAR TBD | AUTHOR: Neo
Corsair has finally updated their headset line up with a totally new product range, the Virtuoso RGB Wireless and the Wireless SE. In Corsair's own words this is their most ambitious audio undertaking yet. A lofty claim which suggests the Virtuoso RGB offers not only the best audio, but comfort, build materials and functionality in Corsair's history. It also means going forward the headsets have a much higher bar by which they will be measured. How true this is hinges on what you're talking about specifically. What I can confirm though is that in most disciplines, the Virtuoso RGB is head and shoulders above any of their previous offerings.
That said, it's important to be clear as to where Corsair Void headsets ranked in audio fidelity etc. Here I would say the VOID headsets were almost always competent, but never inspiring. That's to say it was everything, but the sonic characteristics where it won over its immediate competition. As with each iteration of these headphones, the materials improved, comfort, presentation and of course usability via iCUE. These were if you will, expected evolutionary changes, as they helped keep the VOID headsets in line with what the competition was doing.
The Virtuoso RGB Wireless SE, goes a little further than this and that is represented most obviously in the pricing. At around $179 for the base model – Virtuoso RGB Wireless Carbon (reviewed here), the price is significantly higher than VOID headsets ever sold for. If the higher price is justified will depend on what you value most in your headset. Some are unwilling to compromise sonic performance for anything, while others feel the same about aesthetics, comfort, pricing, durability, noise isolation, durability etc. Has Corsair pulled it off and made the one set to literally rule them? Well let's find out, beginning with the specifications.
Specifications
Interface
3.5mm 3-pole jack, Wireless 2.4GHz, USB Type-A
Cable length
1.5m (USB Charging & 3.5mm Stereo Cable), 20M wireless range
Drivers
Custom 50mm neodymium, matched pairs
Battery Life
20 hours per charge
Frequency response
20 – 40,000 Hz
Headphone Sensitivity
109dB (+/-3dB)
Impedance
32 Ohms @ 2.5 kHz
Microphone Impedance
2.0k Ohms
Microphone Type
Omni-directional
Microphone Frequency Response
100Hz – 10kHz
Microphone Sensitivity
-42dB (+/-3dB)
Microphone adjustment
Flexible, removable
Lighting
Full RGB Cups & Mouth Piece (iCUE control)
Compatibility
PC, PS4, XBOX One, Nintendo Switch, Mobile devices
All appears normal here, but once does notice that Corsair states that the drivers are matched, which should in theory help with an even sound. Connectivity for the Virtuoso RGB is a massive step up, offering a variety of connection types for a wide array of devices. For a headset which claims some level of competence in sonic reproduction, it was only natural for Corsair to allow 3.5mm stereo mini-jack connectivity. If only so the discerning listener may plug the headset into their existing and likely superior audio card or DAC.
---
You are here: Page 1 – Introduction